How should the storage of the tools be organised in the tipper?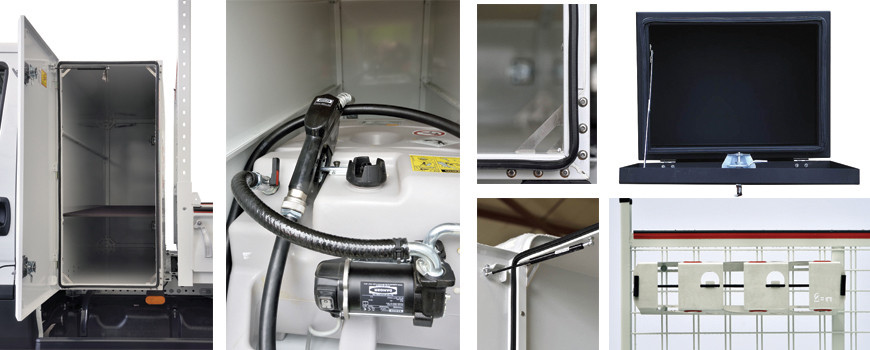 The storage of tools in a tipper truck is essential in terms of people's safety, the ergonomics of use and protection against theft.
How to store your tools. A headache for a large number of craftsmen who want tools put away (i.e. which are not mixed up when loading) but are quickly and easily accessible. So as to organise the storage of tools in the best way possible in your tipper truck, it is necessary to distinguish tools with handles from other tools.


Tools with handles
Regularly used they must be within reach. It is essential to choose a tool holder where spades and pickaxes can be put away from the ground and thus avoid going backwards and forwards in the tipper.
Another important point: once in place these tools are subject to constant jolting from irregularities in the road. Choose a tool holder where the tools are correctly secured but also most importantly where their handles are protected.
In order to meet all the above needs the tool holder is usually fixed to the tipper cab protector: it is therefore exposed to all the vagaries of the weather so its material most not corrode! Consider aluminium…


The other tools
These tools are of varied shapes for which you cannot find specific tool holders, unlike tools with handles. If you have this type of tools the wisest thing to do is to opt for a locker which will be fixed between the truck cab and your bodywork. If your locker meets a certain number of criteria, it will finally be the ideal storage!
First of all you must be able to lock it with a key. In this way your valuable tools are protected. It will also be very useful for your personal effects.
What's more, this locker does not have to be a big empty case. Choose it with shelves and lashing possibilities to make it as versatile as possible. You could put a 100-litre diesel tank in it and also a small tool box!
In addition, by definition the locker is ergonomic insofar as you can access it from the ground. But don't forget loading: it is more practical to have a locker door fitted with a gas spring, which doesn't close on you with the smallest gust of wind. And when you store long items in your locker, e.g. folding tipper loading ramps, nothing should interfere with loading (such as vertical items - inherent in the structure of the locker - which you could bump into).
A final point, don't forget to measure the doorway so that you are sure all your tools will go in!
If you follow all this advice, putting your tools away will be child's play. You will gain efficiency while sparing yourself a lot of unnecessary physical effort!